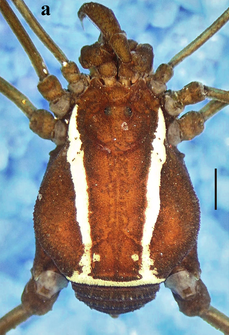 Acritas Sørensen, 1932 is a monotypic genus of the Neotropical family Cosmetidae, subfamily Cosmetinae with one species from Venezuela. 
Synonomy
Edit
Acritas Sørensen 1932: 325; Mello-Leitão, 1933c: 108; 113; 1935b: 115; Soares & Soares, 1946g: 228.
 Etymology
Edit
Placement
Edit
Originally placed in Cosmetidae, Cosmetinae.
Type species
Edit
Acritas bilineatus Sørensen, 1932, by original designation.
Diagnosis
Edit
Included species
Edit
References
Edit
↑ Sørensen, W.E. (1932) Descriptiones Laniatorum (Arachnidorum Opilionum Subordinis). Opus posthumum recognovit et edidit Kai L. Henriksen. Det Kongelige Danske Videnskabernes Selskabs skrifter [= Mémoires de l'Académie Royale des Sciences et des Lettres de Danemark], København [Copenhague], Naturvidenskabelig og Mathematisk Afdeling [= Section des sciences Naturelles et mathematiques], ser. 9, 3(4), 197–422.
Kury, A. B., 2003. Annotated catalogue of the Laniatores of the New World (Arachnida, Opiliones). Revista Iberica de Aracnología, Zaragoza, vol. especial monográfico, nº 1: 1-337.
García, A.F., Sánchez-Guillén, N. & De Ascenção, Antonio (2017) New records of Acritas bilineatus Sørensen, 1932 (Arachnida, Opiliones, Cosmetidae) in Venezuela. Check List, 13(6), 837–843.