Ceratomontia



Suborder

Superfamily

Family

Subfamily
Ceratomontia Roewer, 1915 is a genus of Triaenonychinae, with 22 valid species: 18 in South Africa, including the type species and four occurring in Argentina, Uruguay and south of Brazil.
Relationships
Edit
Ceratomontia is not a monophyletic genus, and the South African species group with other South African genera of Triaenonychinae (Austromontia, Monomontia), not with the South American species. As the type species is South African it should keep the name of the genus, and a new genus should be erected to allocate the South American species.[1]
Type species
Edit
Ceratomontia capensis Roewer, 1915, by monotypy.
South Africa
Edit
South America
Edit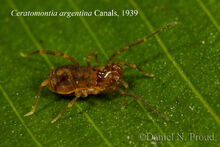 References
Edit
↑

Mendes, A.C. & Kury, A.B. (2008) Intercontinental Triaenonychidae—the case of Ceratomontia (Opiliones, Insidiatores). The Journal of Arachnology 36:273–279.
Ad blocker interference detected!
Wikia is a free-to-use site that makes money from advertising. We have a modified experience for viewers using ad blockers

Wikia is not accessible if you've made further modifications. Remove the custom ad blocker rule(s) and the page will load as expected.