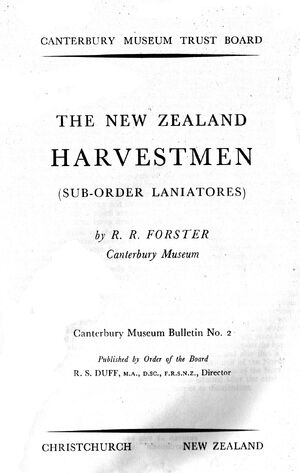 The New Zealand Harvestmen is an important reference for Opiliones from New Zealand. In this work Forster described the family Synthetonychiidae for his single genus Synthetonychia and all its species, and revised the Triaenonychidae from New Zealand, proposing many nomenclatorial acts.
Reference
Edit
Forster, R.R. (1954) The New Zealand harvestmen (sub-order Laniatores). Canterbury Museum bulletin, Christchurch, 2, 1–329.
Ad blocker interference detected!
Wikia is a free-to-use site that makes money from advertising. We have a modified experience for viewers using ad blockers

Wikia is not accessible if you've made further modifications. Remove the custom ad blocker rule(s) and the page will load as expected.